Patek Philippe is one of the most respected watch names for the proper reasons. Each timepiece is made with masterful engineering under the watchful eye of Master Watchmaker Laurent Junod. Handcrafted for 178 years, every watch is stamped and logged with a serial number. If you desire you may request Patek Philippe to inspect their extensive logbooks for the matching watch model for any year.
As I grow older, Patek Philippe is becoming one of my favorite watch brands. While their price range from $6000 to millions of dollars, it is as much as an investment as a timepiece. A true collector's item meant to be passed on to grandchildren graduating college or achieving their doctorates.  Less than 1 million Patek Philippe watches have been made since 1839.
 "You never actually own a Patek Philippe. You merely take care of it for the next generation."  
Here are three new Patek Philippe & Co. we just acquired, we hope you enjoy them as much as we do!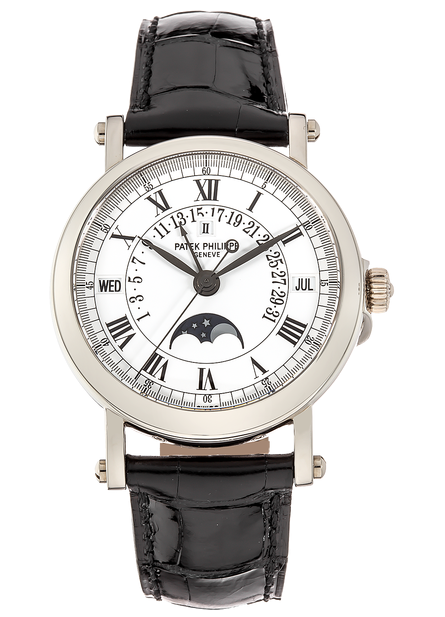 PATEK PHILIPPE & CO. RETROGRADE PERPETUAL CALENDAR REF 5059 G
As one of my favorite chefs Anthony Bourdain says, "You eat with your eyes first." That is obvious when you notice the beautiful White Gold around the case of the Patek Philippe No 5059. A striking white face protected by a sapphire crystal. The sapphire crystal protects the dial from dust and other micro particles. The retrograde calendar is our favorite part about this timepiece. In the blink of an eye the needle returns from 31 to 1. This perpetual calendar shows date, time, and moon phase. A superb model. Elegant, somber, and simple.
PATEK PHILIPPE & CO. RETROGRADE PERPETUAL CALENDAR REF 5059 R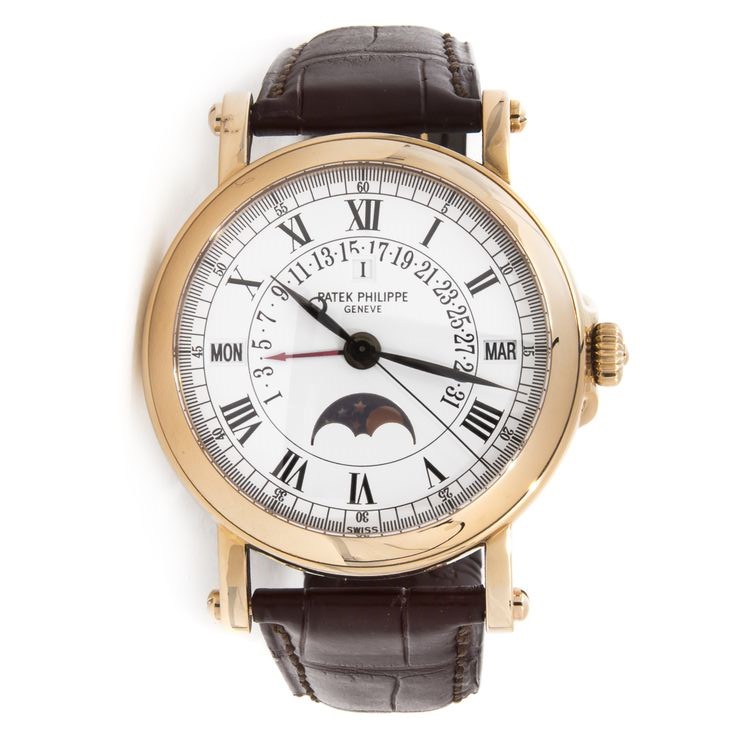 The first characteristic that you will notice on the Patek Philippe 5059 R is the 18k Rose Gold finish on the case. The Retrograde 5059 R & G are identical in every regard besides the Rose Gold finish.  The white dial beautifully slides around the white face and complications. The railroad tracks on the dial make the face seem a little more tight, while it only measures 36 mm in diameter. The rose gold gives the Patek Philippe 5059 a more youthful look. While we believe that the 18K White Gold is a classic look, we believe the Rose Gold case on this model makes the white dial stand out a little bit more.
PATEK PHILIPPE & CO. GRAND COMPLICATIONS PERPETUAL CALENDAR 5159 G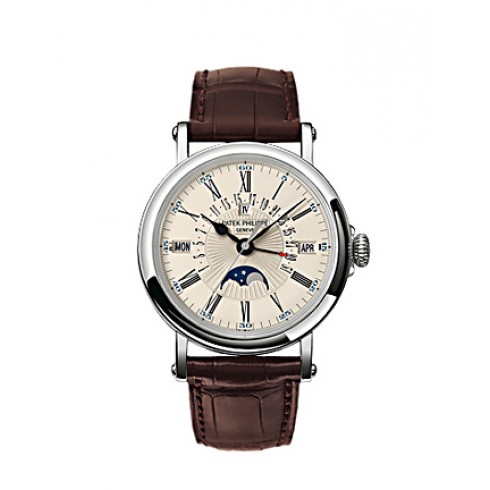 Last, my favorite model of these three Patek Philippe's. The Patek Philippe Perpetual Calender Moon phase watch crocodile strap is a similar accessory with all the watches, but my favorite part of the watch are the large roman numerals in a more refined font. It does help that the case is a 38 mm case instead of a 36 mm case as is the ref. 5059 model.  The hands exhibit the same emotions of grandeur. Patek Philippe should be worn sparling, but the Patek Philippe 5159 would look great in any setting. The other watches are phenomenal works, but I believe this Patek Philippe Grand Complications Perpetual Calendar watch is a step above.
Patek Phillippe earns its spot as one of the top brand watches for men. Each Patek Philippe watch are made with precision. You are not buying just a watch, but a sequence of art and engineering. A purchase of a Patek Philippe grants entry into a special club whose owners are royalty, celebrities, and presidents. Whether bought for yourself or a son these luxury men's watches embody an appreciation for the finer things in life.
If you can't take my word for granted or need a better view of the watch. Check out this great video review by Erik Ternsjo.
Shop our men's luxury watches today at www.DeMesy.com
If you enjoyed the blog post share on social media below!
---