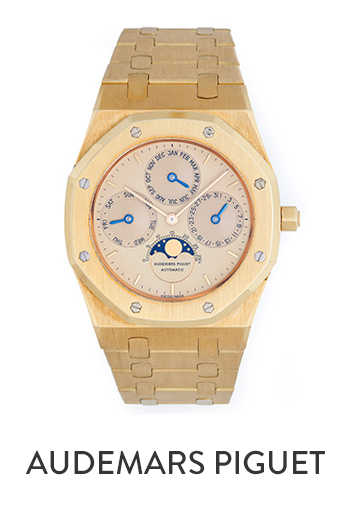 Pre-Owned & Vintage Audemars Piguet
Founded in 1875, in Switzerland, and still owned by its founding family, Audemars Piguet, is regarded as one of the highest end of the fine Swiss watch manufacturers, along with Patek Philippe, Vacheron Constantin, Jaeger-LeCoultre and Breguet.
The anchor model of the AP line of watches is the Royal Oak. Introduced in 1973, with a stainless steel case and characterized by its octagon shape, it was quite unusual, at the time when all luxury watches were round, slim and gold. It took a while for the uniqueness to be appreciated, but soon trendsetters and collectors took notice and the Royal Oak became widely popular around the world.
Since the debut of the Royal Oak, Audemars Piguet has introduced many variations of the model, with the 42mm, sporty, Royal Oak Offshore, introduced in 1992 to celebrate the Royal Oak's 100th anniversary, being the most successfully. Other models produced by Audemars Piguet are the Jules Audemars Collection, with some highly complicated styles and the Millenary and Myriade collections which include unusual designs, shapes, diamonds and gemstones.