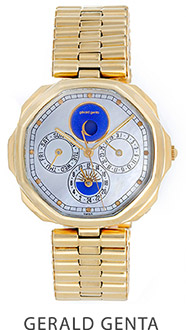 Pre-Owned & Vintage Gerald Genta
This watch brand was founded in 1969 by Swiss-Italian talented designer Gerald Genta. Gerald Genta belongs to develop design classic watches Royal Oak watch of the brand Audemars Piguet and many others.
In 1969 he registered his own watch brand, although the first watch brand Gerald Genta appeared somewhat later. In 1981 Gerald Genta had developed his own caliber self-winding movement, and minute repeater. Technical skate of Gerald Genta are retrograde features of movements. In the early 90's Gerald Genta began promoting his watches in the world market. In 1998, Gerald Genta selling watch brand Singaporean Watch Glass.
In 2000 Gerald Genta watch brands entered Bvlgari Group.