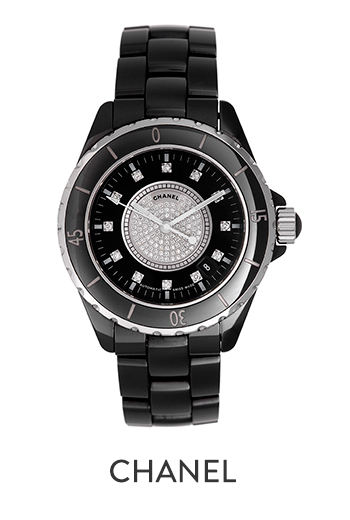 Pre-Owned & Vintage Chanel
The celebrated haute couture company founded in the early 1900's presented its first watch in 1987, Première. Staying true to its heritage with an octagonal case, it was inspired by the form of the Chanel N°5 bottle stopper. The design of the Première watch has proven an enduring success as the years have in no way diminished its power of instant seduction. More than two decades on, it continues to cast its spell whatever its dimensions.
Also, inspired by sailing and the sea, the J12 was introduced in 2000 transforming ceramic into a precious substance and establishing the "couture" watch as a world with its own identity and attributes. In 2011, Chanel again turned to ceramic to invent a new color which it unveiled as the J12 Chromatic. This innovation was achieved by adding titanium to ceramic for color and lightness, and by developing a polishing technique using diamond powder to obtain a unique sheen.
A prestigious jeweler and watchmaker, Chanel brings a new daring touch to horological expertise and a command of fine jewelry.