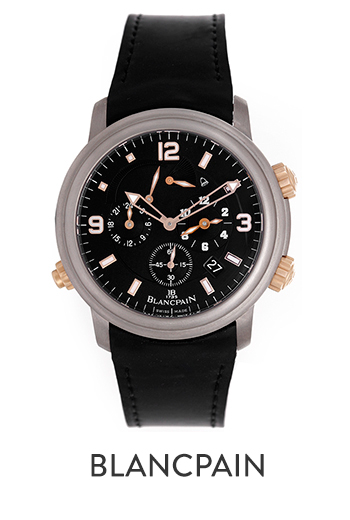 Pre-Owned & Vintage Blancpain
Founded in 1735 in Villeret Switzerland, Blancpain is a brand that has been contributing to the development of mechanical watchmaking while conserving the traditional skills of mechanical watchmaking.
Blancpain is famous for creating the most complicated mechanical watches ever made, The Blancpain 1735, which is a true grand complication, a limited edition of 30 pieces ever made each year.
Blancpain is also known for its Fifty-Fathoms watch, selected by the United States Navy. The Blancpain Fifty Fathoms was the original modern dive watch designed in 1953. The Blancpain Fifty Fathoms has an amazing history and is really an under-appreciated icon in the watch world. It began as a serious military dive instrument and then continued on to explore the deepest depths of our planet's oceans. In 1984, Blancpain launched the world's smallest movement, followed in 1989 by the launch of the world's thinnest movement.
Blancpain's has kept up with innovations in the sector of top-of-range watchmaking.