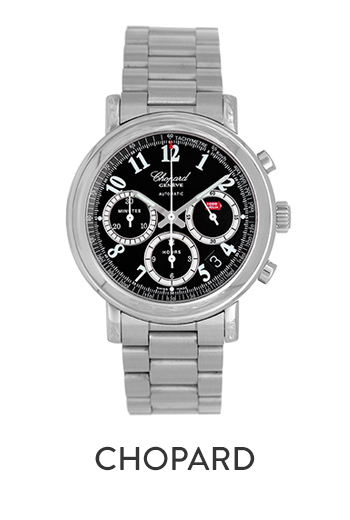 Pre-Owned & Vintage Chopard
Founded in 1860 by Louis-Ulysse Chopard, as a manufacturer of pocket watches and chronometers, the company gained its stronghold in the luxury watch market after being purchased by Karl Scheufele in 1963. In 1976, the popular Happy Diamonds collection featuring 'floating' diamonds was introduced, bringing Chopard to the forefront in the development of fine ladies luxury watches, known for the highest quality of diamonds, worthy of the Chopard name.
While famous for its finely crafted, ladies watches adorned with precious gems, Chopard is also known for the fine craftsmanship and timepiece complications of their masculine, sport watches. The rugged Mille Miglia collection is an ode to vintage car racing. The G.P.M.H. collection is a tribute to one of motorsports' most dangerous races, the Grand Prix DeMonaco Historique. Chopard is the official timekeeper for both world renowned races. Other popular Chopard models are the Happy Sport, Happy Sport Oval, Imperiale, Les Classique, Happy Beach/Fish, La Strada, L.U.C., Two O Ten, Ice Cube, Superfast Chrono, L'Heuer Du Diamant.