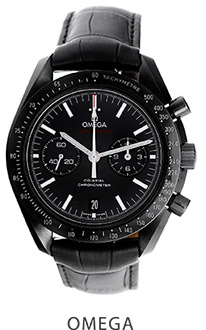 Pre-Owned & Vintage Omega
The forerunner of Omega, La Generale Watch Co, was founded at La Chaux-de-Fonds, Switzerland in 1848 by Louis Brandt, who assembled key-wound precision pocket watches from parts supplied by local craftsmen. He sold his watches from Italy to Scandinavia by way of England, his chief market. In 1894, his two sons Louis-Paul and César developed a revolutionary in-house manufacturing and total production control system that allowed component parts to be interchangeable. Watches developed with these techniques were marketed under the Omega brand of La Generale Watch Co.
By 1903 the success of the Omega brand led to La Generale Watch Co to spin off the Omega brand as its own company, and the Omega Watch Co was officially founded in 1903.
In 1947, Omega created the first tourbillon wristwatch caliber in the world with the 30I. Twelve of these movements were made, intended for inclusion in the observatory trials in Geneva, Neuchâtel and Kew-Teddington, and they were known as the Omega Observatory Tourbillons. In 1949, one of these delivered the best results ever recorded by a wristwatch up to that time. A year later, Omega broke its own record, in the Geneva Observatory Trials of 1950.
Omega has frequently been the official timekeeper for the Olympics, beginning with the 1932 Summer Olympics.