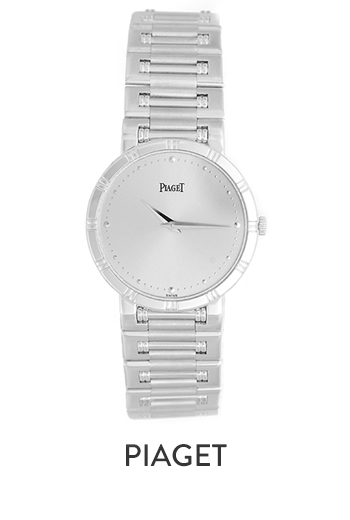 Pre-Owned & Vintage Piaget
With its rich cultural history and daring designs, Piaget has been turning heads for almost 150 years. Georges Edouard Piaget began crafting high precision clocks and pocket watches in 1874. In 1911, under the direction of his son, the firm became dedicated to the production of wristwatches. The brand was trademarked in 1943.
Known for both beauty and simplicity, those who prefer their timepiece to be in the form of jewelry, look to the Piaget brand. Beautiful timepieces -- refined, rare, meticulously hand-finished using the finest materials and unique in design. With the largest jewelry workshop in Geneva, their masters cut, adjust and set by hand every stone. Their diamonds meet the highest standards of color and clarity. Some of the more opulent pieces are their diamond watches, like the Piaget Polo, Protocole, Tanagra, Dancer, Altiplano, and the exquisite Limelight Gala. Worn by celebrities and socialites, these jewels of time are the epitome of sophisticated individuality.
Perhaps the president of Piaget put it best when he remarked: "You don't read the time from a Piaget watch, you admire it."