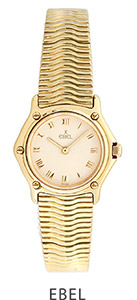 Pre-Owned & Vintage Ebel
The founders who laid the company foundations in 1911, Eugène Blum and Alice Lévy had been married for nine years. The name of the watch-making firm they established symbolized its unique origins in the fusion of two personalities: EBEL – an acronym of the initials "Eugène Blum Et Lévy".
It is an undeniable fact that watch-making has tended to be a male-dominated arena, in which all of the high-profile founders of the best-known watch brands have been men. Not so with EBEL, which was built from the very beginning on the pillars of masculine and feminine values and qualities.