Home

/

Rolex Replacement Bezel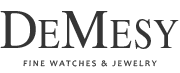 DeMesy Fine Watches is not an authorized Rolex dealer nor is it affiliated with the Rolex Corporation or any of its subsidiaries. Unless purchased directly from an authorized Rolex dealer, all Rolex watches are considered pre-owned. Datejust, Day-Date President, Presidential, Super President, Pearlmaster, Masterpiece, Submariner, Cosmograph Daytona, Explorer, Sea Dweller, GMT Master,Yacht-Master, Air King Milgauss, Prince, and Cellini are all registered trademarks of the Rolex Corporation (Rolex USA, Rolex S.A.) All trademarked names, brands and models, mentioned on this site are the sole property of Rolex, USA, Inc. and/or their respective trademark owners. This site, including its owners, operators, and developers, are not affiliated with nor endorsed by Rolex, Rolex USA, or any of its subsidiaries, in any way, nor are they an authorized dealer of any of the fine Swiss watch brands or any other brands of watches or jewelry items offered for sale.

Prices are subject to change without notice. Retail prices shown represent the current replacement value of the item and are the manufacturer's suggested retail price which may not reflect actual selling prices.
© 2019 DeMesy Fine Watches. All Rights Reserved.